If you have a good understanding of investments and your financial plan, maybe it's time to help out your siblings, children, or grandchildren. In the last couple of years, Plancorp has been hard at work developing a solution to help more individuals to get started sooner.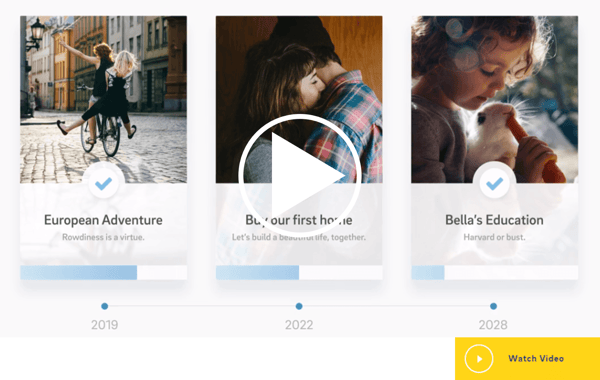 Click here for an overview video of the BrightPlan platform.
Sister Companies, Shared Values
BrightPlan is our sister RIA (Registered Investment Advisor) that offers a digital experience to plan out goals, invest in a low-cost diversified portfolio, and track progress on a regular basis. It's a one-of-a-kind offering that focuses on your financial plan, not just investing without knowing what you're investing toward.
The software, informed by Plancorp's Financial Planning Committee, creates a tailored plan for each of your goals. Using your own risk profile, timeline, and investment portfolio for each, BrightPlan understands that your goals—and the paths to get there—are as unique as you are.
The platform helps you get started building your emergency fund, prioritizing debt payments vs. saving toward retirement, buying a house and all your other big dreams! To get started planning, it's just $20 a month and you get all access to all of this:
Personalized digital financial advice.
A plan for each of your goals reflecting your unique circumstances.
Certified fiduciary advice.
Daily analysis to keep your goals on track.
Portfolio recommendations for all your investment accounts.
Financial dashboard to monitor your net worth, transactions and cash flow for all your accounts.
Automate your plan with a BrightPlan Investment Account (optional).
Plancorp's Investment Philosophy, All in One App
If you're a little further along and have more to invest, we have another great option to help you. Plancorp combined our Investment Committee's experience with BrightPlan's technical prowess to custom build a first-of-its-kind digital investment platform.
There is only a 0.4% annual management fee for your BrightPlan accounts.
Low minimum investment of $500.
Annual consultation with a Plancorp financial advisor.
Unique investment strategy for each of your goals.
Automated investing, portfolio rebalancing, and tax saving strategies.
We know that keeping your money safe is top priority, which is why BrightPlan provides access to open accounts safeguarded by TD Ameritrade. We've also built BrightPlan on top of our Salesforce platform (which we currently use to securely manage and protect our client data), ensuring your personal information remains highly secure.
Knowing all your financial accounts are in one place makes life a lot easier and allows you to focus on what's really important. And it's never too early to get started. If you have questions on BrightPlan or how to begin, feel free to e-mail me at stacie@plancorp.com or visit brightplan.com.
This post was written by a member of

InspireHer, Plancorp's Women's Initiative, which strives to advocate for clients and women in the community by addressing topics specific to their financial lives. For more information about InspireHer and how you can get involved, email inspireher@plancorp.com.