Medicare is the government-sponsored health insurance program for people aged 65 or older and those under 65 with certain disabilities. There are various entry points throughout the year for new enrollees or existing beneficiaries who want to make changes. One is the Medicare Open Enrollment Period, the time when certain changes can be made to your existing coverage, changes that could potentially save you money or expand your benefits in 2020. While Original Medicare is administered by the federal government, the alternative and supplemental plans are administered by private insurers.
What is the Medicare Open Enrollment Period?
The Medicare Open Enrollment Period is the time during which people with Medicare can make changes to their coverage and pick plans that work best for them. If your health care needs may have changed or you take different medications, the Open Enrollment Period allows you switch Medicare health and prescription drug plans to better suit your anticipated needs for the coming year.
When does the Open Enrollment Period start?
The Medicare Open Enrollment Period begins on October 15 and runs through December 7. Any changes made during Open Enrollment are effective as of January 1, 2020.
What changes can be made?
Some of the options during Open Enrollment are to:
Enroll in a Medicare Prescription Drug (Part D) Plan
Switch from one Part D Plan to another Part D Plan
Switch from Original Medicare to a Medicare Advantage Plan
Switch from a Medicare Advantage Plan to Original Medicare
Change from one Medicare Advantage Plan to a different Medicare Advantage Plan
Note that some changes, such as to MediGap (or Medicare Supplement) coverage might require medical underwriting (an assessment of your health and pre-existing conditions), so it is important to maintain your current coverage until you have been formally approved by the new plan.
What should you do?
Now is a good time to review your current Medicare options. Such things as monthly premiums, co-pays, deductibles, travel plans, and choice of providers should all be included in your analysis.
All Original Medicare beneficiaries with Part D coverage should definitely review your options annually as the formularies, tier structures and participating pharmacies of the programs may have changed. As a result, your current plan may not be the most economical next year. One way to evaluate your Part D coverage is to use the Medicare.gov website.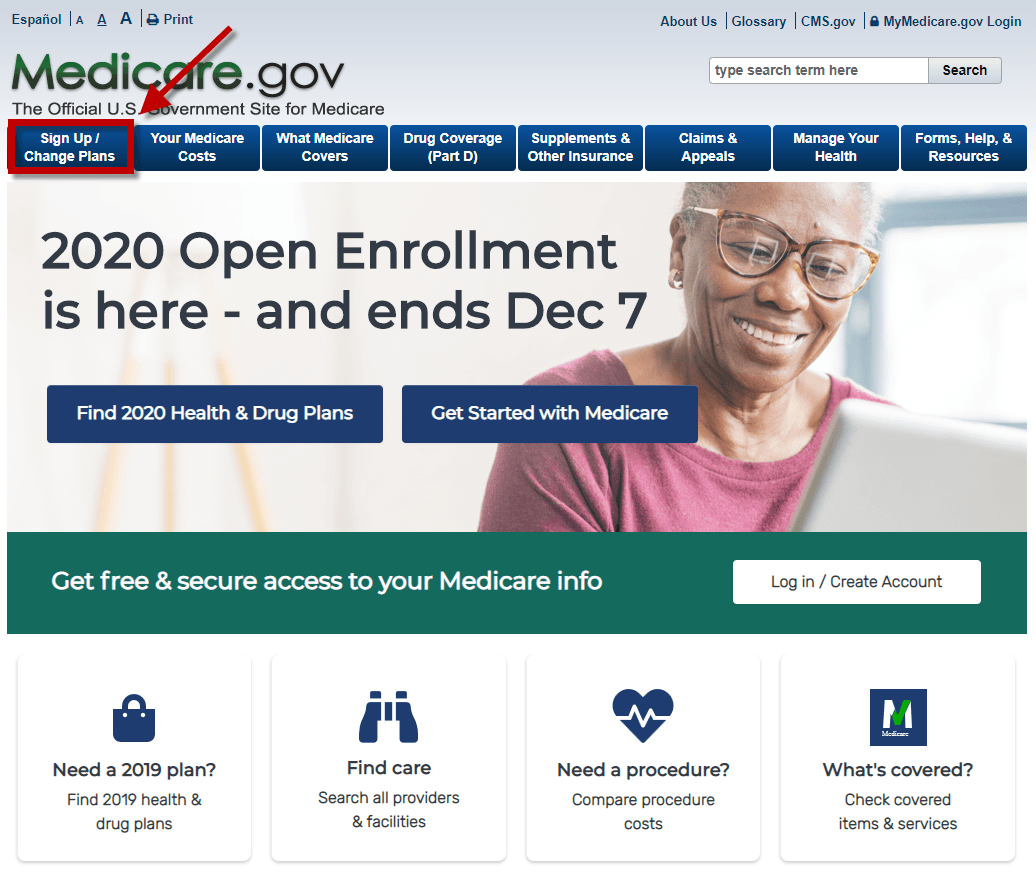 By entering your prescription drugs (including the dosage and frequency), your preferred pharmacies (you can select two plus a mail-order source), and your ZIP code, you can generate a list of all of the Part D plans that are available, along with an estimate of your total cost over the course of the year (including the base plan premium). Be sure to check several pharmacies in your area as the costs can vary significantly. If you create a MyMedicare account by entering your Social Security number and birthdate, the system will store your drug list, making it easy to update in the future. It is even possible to enroll in a new Part D plan directly from the website. Run the review for each beneficiary separately and remember that spouses are not required to enroll in the same plan. The site has been revamped for 2020, so it might look unfamiliar if you have used it before.
Where can you get more information?
Determining what coverage you have now and comparing it to other Medicare plans can be confusing and complicated. Because there has been consolidation among health insurance companies, you might see unfamiliar names when you receive a renewal notice, so pay attention to information you receive from Medicare and private insurance companies. Take advantage of help available by calling 1-800-MEDICARE or by visiting the Medicare website, medicare.gov. If you have questions about your options or steps to take during the Open Enrollment Period, please call your Plancorp Wealth Manager to discuss. We would be happy to put you in touch with a consultant who can guide you through the process.
Plancorp does not provide tax, legal or accounting advice. This material has been prepared for informational purposes only, and is not intended to provide, and should not be relied on for, tax, legal or accounting advice. You should consult your own tax, legal and accounting advisors.