People tend to tell me I'm a positive person, even if I don't always feel like I am. Whether you consider yourself an optimist or not, chances are you blindly trust that at least some figures in your life—perhaps your attorney, CPA, pastor or financial advisor—are inherently "good." After all, it's their job to watch out for you, right?
I can't speak for the first three. But as someone with a two-year crash course in the financial services industry, I can tell you that "good" can be subjective, and not all "advisors" have your best interests at heart. Here's a summary of what I've learned it means to be truly trustworthy in this industry. How does your financial advisor measure up?
1. She is a certified fiduciary.
The simplest definition of "fiduciary" is someone who is legally obligated to make decisions with your best interests in mind. In an industry permeated by broker-dealers—essentially, "advisors" who sell and make commissions off of financial products—the legal obligation is an important distinction.
Broker-dealers like to say they have the perfect product for you. Plot twist: it's probably perfect for them (thanks to the nice commission they'll make off the sale) but only suitable for you. For more on the difference between a fiduciary and suitability standard, click here.
Some firms even take their fiduciary commitment one step further by seeking validation by a third-party, such as the Centre for Fiduciary Excellence, to ensure they are being held to the highest standards.
2. She only makes money

from

you, not

off

of you.
This goes back to the blind trust point. One recent survey suggested roughly 92 percent of Americans don't know what they're paying in retirement plan fees. Most of us wouldn't buy a house or a car without knowing the cost up front, but somehow we're willing to blindly hand over our money to financial advisors. It doesn't make sense, especially when a seemingly small difference–think 1 versus 3 percent—can cost you more than $700,000 over a lifetime.
Your advisor should be able to quickly and clearly give you a breakdown of fees, measured in a percentage of your assets under management. Ideally, it will be fairly simple, and look something like: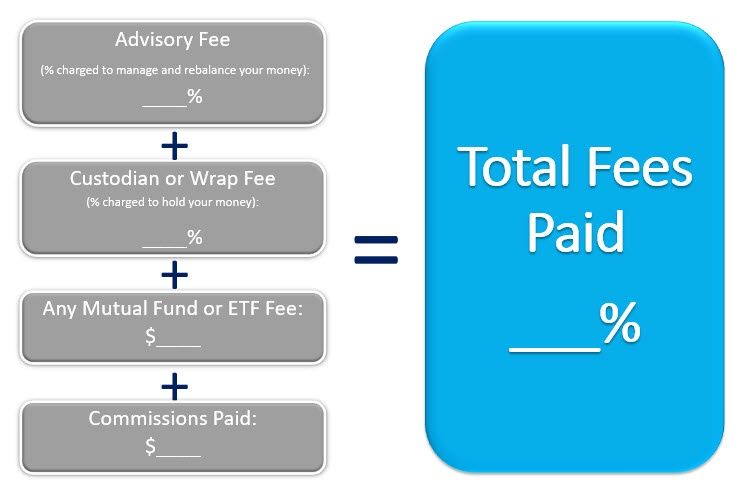 Some firms will also add financial planning (think: strategic estate, insurance and tax planning) for free into your advisor fee, which can be a value add of thousands of dollars. Typically, the advisory fee is directly deducted from your account, and as your account grows, the percentage charged goes down.
The simpler the structure, the better. If you see a long list of additional "mutual fund fees" (sales loads, purchase fees, management fees, account fees, etc.) it should be a red flag that your advisor may be getting a kick back from the products she's selling you, rather than being compensated by you based on the success of your investments. If the fees are automatically deducted, it can be hard to keep tabs on them unless you make a concerted effort to do so.
3. She makes the conversation about you.
At the end of the day, investments are just one of many tools to help you reach your life goals. There's no one cookie cutter approach that works for everyone, and your advisor should be making time to ensure she's helping you reach your personal goals in a strategic and personal way.
For example, maybe you have grand plans of traveling the world when you retire, and ideally paying for your grandchildren's education. Your advisor is probably going to put you in an investment allocation that is a little riskier, but that gives you the potential for much higher returns over a long time horizon. She should walk through different Monte Carlo simulations with you to show you exactly what your probability of "success"—as defined by your ability to live the life you want—looks like in different portfolio models.
But, traveling the world isn't for everyone. Let's say that your ideal retirement is finally taking some time for yourself. You've worked hard, put in grueling hours, and just want to finally reap the benefits and enjoy some peace and quiet. In that case, your advisor may put you in a slightly less aggressive portfolio that easily ensures you'll have what you need to make that vision of a quiet evening—sans any thought of money or finances—a reality.
Whether you're an optimist at heart or not, do yourself a favor, and make sure your financial advisor truly deserves your trust. A good place to start is to ask your advisor these 12 questions. It shouldn't take more than five minutes or so, and it could be the difference in hundreds of thousands of dollars in your lifetime.
This post was written by a member of

InspireHer, Plancorp's Women's Initiative, which strives to advocate for clients and women in the community by addressing topics specific to their financial lives. For more information about InspireHer and how you can get involved, email inspireher@plancorp.com.