A few months ago we discussed keeping return expectations in check as higher valuations increase the probability of lower returns. We have no idea what the future holds and whether lower stock returns will come to fruition, but we do expect stocks to provide you with the best chance of outpacing inflation and reaching your goals.
The cost of higher expected returns in stocks versus other asset classes is higher expected volatility. When it comes to stock investing, there is always something to worry about. It is this uncertainty that allows stocks to provide higher returns in the first place.
The wonderful thing about volatility is that it works in favor of long-term investors. (This was a point in my recent article for CNBC.) High volatility in the short-run provides rebalancing opportunities that allow you to buy low and sell high. Meanwhile, stock market returns over longer time horizons tend to be less volatile. To see an example of this, take a look at the series of charts below.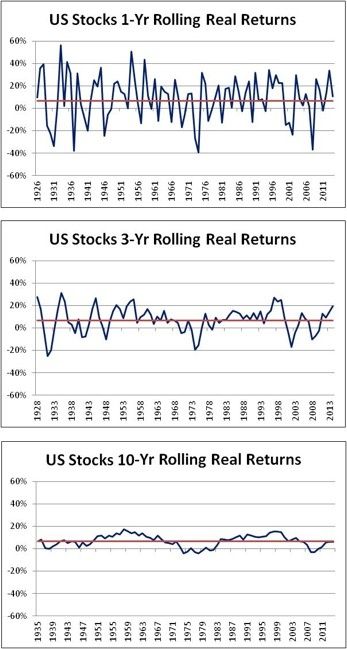 The red line represents the average 1-Year rolling real return of 6.78% from 1926 through 2014. The blue line represents the real rolling period returns. As you can see, stocks are very volatile over a one-year period, but are much smoother over longer periods of time.
Short-term volatility in one year periods allows for rebalancing opportunities of buying low and selling high. As time horizon expands, however, returns become far less volatile around the average return. This is why the long-term, patient investor is rewarded over time.
Last month we looked at valuations and drew the conclusion that stock prices are vulnerable to unexpected shocks and long-term returns have an increased probability of trailing historical average returns. This makes sense because generally we experience lower returns when valuations are high (i.e. stocks are more expensive), and higher returns when valuations are low (stocks are cheaper).
The future is unknowable and there are risks inherent to that. Our success in managing those risks will determine the how successful we are financially. For more on the topic of risk, check out some of the articles linked below.
Additional Links on Risk:
Measuring the Risk and Return Tradeoff
Sources and Disclosures:
PAST PERFORMANCE IS NO GUARANTEE OF FUTURE RESULTS. Investing involves risk . It should not be assumed that recommendations made in the future will be profitable or will equal the performance shown. Investment returns and principal value of an investment will fluctuate and losses may occur. Diversification does not ensure a profit or guarantee against a loss.
U.S. stocks in this article are represented CRSP US Total Market Index, which is made up of nearly 4,000 constituents across mega, large, small and micro capitalizations, representing nearly 100% of the U.S. investable equity market. An investor cannot invest directly in an index.