If you're a high-income earner with extra cash flow and like the idea of a Roth IRA, then you'll want to hear about the mega backdoor Roth IRA. While it may sound like a mouthful, it could be worth exploring if you're looking to stockpile significant savings for your future retirement.
Daniel Lee will take a deep-dive into this powerful retirement planning strategy and answer all your relevant questions on:


Who Should Consider One
Its Four Major Parts: Making Contributions, Adding After-Tax- Contributions, Rolling over Contributions, and Incorporating Other IRAs
The Impact of All Those Moving Parts
How Much You Can Potentially Save With It
Your Host: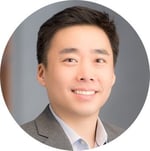 Daniel Lee
CFP®, CFA
Senior Wealth Manager
Fill out the form on this page to watch on demand.