Here are tax considerations to help maximize the value of your options, RSUs, or ESPP awards:
Incentive stock options



One of the advantages of ISOs is that you don't owe income and payroll taxes when you exercise — as long as you hold those shares for at least two years from the grant date and one year after the exercise date. (If you sell before one year, the difference between the market value of the shares and the strike price will be taxed as ordinary income.)
However, ISOs are not exactly tax-free. The difference between what you pay for the shares and the stock's fair market value counts towards your alternative minimum taxable income (AMTI).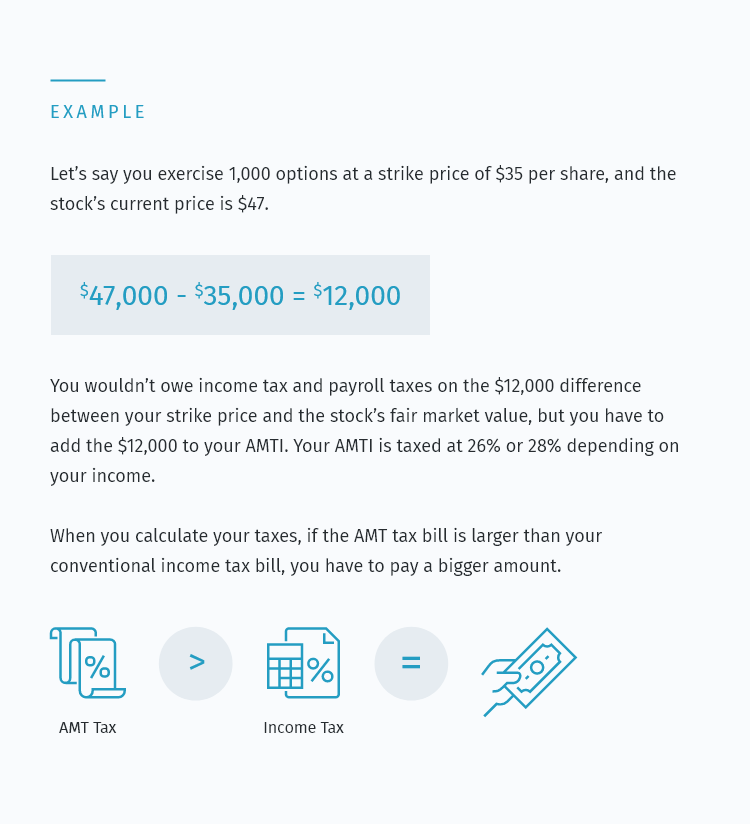 When you sell the shares, you'll face capital gains taxes on the difference between the strike price and the sale price. The gain or loss will be measured from your exercise cost — even if you've already paid AMT.
Nonqualified stock options



When you exercise NSOs, you owe income tax and payroll taxes (Social Security and Medicare) on the difference between what you paid for the shares (your strike price) and their current market value.
Again, let's say you exercise 1,000 options at a strike price of $35 per share, and the stock's current price is $47. You would be taxed on $12,000 of income ($47,000 - $35,000).
Your company may automatically withhold the mandatory minimum 22% for federal taxes, as well as any state minimum withholding, but there's a good chance your actual tax rate is much higher. It's important to run a tax projection when planning to exercise options so you don't face a big tax bill when you file your return for that year.
Once you exercise NSOs, you can sell or hold those shares. When you do sell, any capital gain or loss will be measured from the shares' fair market value on the date of exercise. If you hold those shares for at least one year after your exercise date, you'll qualify for the long-term capital gains rate on any increase in value.
Restricted Stock Units



With restricted stock units, there are no taxes at the time of grant since the shares are not technically yours yet. But, in the year your RSUs vest, their share value is considered ordinary income, and you are taxed just as if you had received the same amount in cash. Even if you don't sell them, the share value is subject to federal, payroll and applicable state and local taxes for that year.
After that, any change in value from the vesting price is taxed as a capital gain or loss when you sell the shares. If you vest and then immediately sell your shares, it stands to reason that you incur neither a gain nor a loss.
Employee Stock Purchase Plans



With an ESPP you only incur taxes when you sell the shares, not when you purchase them. The less-good news is that ESPP tax planning is complicated by "qualifying" vs. "disqualifying" dispositions.
A disqualifying position (selling right away)
Selling ESPP shares held for less than two years after the offering date or less than one year after the purchase date is a disqualifying disposition. In a disqualifying disposition, any gains in the shares are taxed at (typically higher) ordinary income tax rates.
A qualifying position (selling after a waiting period)
ESPP shares are eligible for preferential tax treatment under a qualifying disposition. To make a qualifying disposition, shares must be held for at least two years after the offering date, and at least one year after the purchase date.
A qualifying disposition allows gains above the discount to be taxed at (typically lower) long-term capital gains rates. The company discount is always taxed as ordinary income.
Tax smart strategies - Common mistakes to avoid
The complex tax rules that govern equity compensation can sometimes result in people making costly missteps. Before you take action with newly acquired company shares, it's important to develop a strategy for what you will hold and what you will sell.
Here are three common tax mistakes to watch out for:
1. Holding RSUs longer than necessary
Employees often get confused about the holding periods required for different kinds of equity compensation. For RSUs there are no tax advantages to holding the shares after they vest. In fact, selling them at the time of vesting limits potential appreciation, which may make it a tax-efficient time to sell.

2. Selling ISOs and ESPP shares too soon
The long-term capital gains tax rates are the lowest available tax rates for stock options and ESPP shares. You should consider hanging onto ISO/ESPP shares for at least two years from the grant date and one year after you take possession of the shares to qualify for those rates.

3. Selling shares without a tax strategy
Although you may face a significant tax bill when you sell company shares, you can manage those costs if you develop a good strategy in advance. For instance, you can time your sales to spread the tax bill over different tax years, or focus your sales on years when your tax bracket might be lower. An advisor may be able to help you identify other assets that have suffered losses to sell, so you can take advantage of tax-loss harvesting to offset taxes on your equity compensation shares. You might also use other strategies, like selling during market dips or making a charitable gift of appreciated securities.