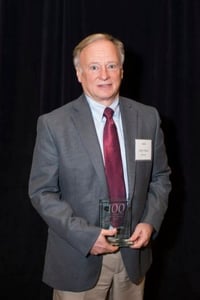 Small Business Monthly named Larry Guess, Director of Plancorp's Exit Strategy Planning division, to its list of "Top 100 St. Louisans You Should Know." Click here to view the recognition and complete list of winners.
Having formerly owned, bought and sold businesses himself, Larry now helps business owners at all stages develop exit strategies. He has developed a multi-phase approach, beginning with gathering data and assessing post-exit goals before moving on to business analysis and valuation.
--
Please note:
Awards are not indicative of future performance. Awards and Other Recognitions should not be interpreted as a guarantee or suggestion that a client or prospective client will experience a certain level of results if our firm is engaged, or continues to be engaged, to provide investment advisory services, or as an endorsement of our firm by any past or present client. None of the sponsoring publications or organizations are affiliated with our firm, none of the Awards or Other Recognitions are based on client evaluations of our firm, and we have not made any payments for or in anticipation of any Award or Other Recognition. We encourage you to contact the sponsoring publications or organizations if you would like additional information regarding their processes or methodologies.