Plancorp has been named to the list of "Top 9 Best Financial Advisors in St. Louis" for the third year in a row. The publication highlights our Women's Initiative, "InspireHer," which promotes financial literacy for our clients and women of the community. To learn more about the InpsireHer mission, click here, or check out our blog.
All of AdviosryHQ's review and ranking articles are 100 percent independently researched and written. Most firms do not even know that they are being reviewed and ranked by the company until after the reviews have been published to the public.
The brief comparison and ranking is shown below. Click here to view the complete comparison and ranking.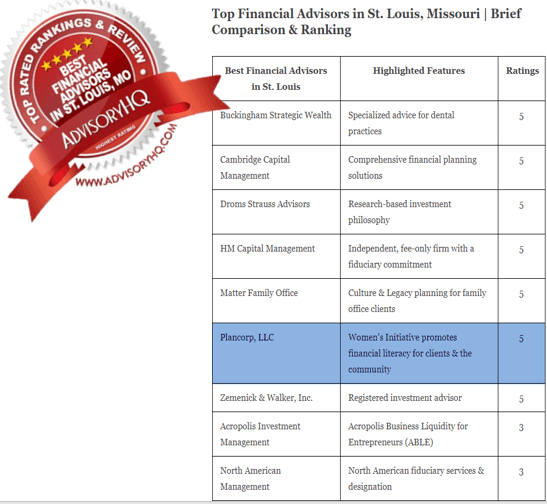 —
Please note:
To be considered for these rankings, a firm must be an SEC-registered investment advisor, provide wealth management services and focus primarily on serving individual clients. Firms managing large funds, hedge funds, broker-dealers or having disciplinary disclosures were excluded.
Awards are not indicative of future performance. Awards and Other Recognitions should not be interpreted as a guarantee or suggestion that a client or prospective client will experience a certain level of results if our firm is engaged, or continues to be engaged, to provide investment advisory services, or as an endorsement of our firm by any past or present client. None of the sponsoring publications or organizations are affiliated with our firm, none of the Awards or Other Recognitions are based on client evaluations of our firm, and we have not made any payments for or in anticipation of any Award or Other Recognition. We encourage you to contact the sponsoring publications or organizations if you would like additional information regarding their processes or methodologies.