Graduating from college is a fun and exciting time of life. For most students, this time also brings the realization of a new reality: student loans. By taking proactive steps, you can reduce your stress and make better budgeting decisions.
Where Do I Start?
The first step is getting to know your loan servicer. A loan servicer is an intermediary between you and the federal student loan program. To find out who is handling your student loans, visit the Federal Student Aid FSA ID page. You will be directed to create an account with your loan servicer. You will then be able to view your loan details, make payments, and choose the right repayment plan for your situation.
It's important to have an open line of communication with your loan servicer throughout the entire process. They will work with you to determine which plans you're eligible for and which option is the best for you.
Subsidized vs. Unsubsidized
Most student loans are either direct subsidized loans or unsubsidized loans. With subsidized loans, the federal government pays the interest while the student is in school. With unsubsidized loans, interest has been accruing since the beginning of the loan and has not been paid.
For each loan type, you are given a six-month "grace period" after graduation. During this time, you are under no obligation to make payments. But if you have unsubsidized loans, after your six-month grace period, the accrued interest will capitalize. This means the accrued interest is added to the principal, and you will be paying interest on the interest you already owe.
Once you land a job out of college, immediately factor student loan payments into your budget and begin paying down your debt. Even though you don't need to pay during the grace period, it's a great idea to start the habit of making monthly payments.
By including your student loans in your budgeting plans, you can make smarter money choices about housing and even saving for the future when that first paycheck lands in your account. Best of all, you will pay in interest by attacking your loans during the grace period.
Picking the Right Repayment Plan
Your next step is to determine the right repayment plan for you. You are automatically enrolled in the Standard Plan but are free to change at any point. With the Standard Plan, you will make a fixed monthly payment for up to 10 years. This plan is simple to understand and will leave you paying the lowest total amount (interest plus principal) of all of the repayment options.
However, for some people fresh out of school the minimum payments on the standard plan can be a strain. Two other plans that offer lower initial payments are the Graduated Repayment Plan and the Extended Repayment Plan. The Graduated Repayment plan offers small initial payments that increase incrementally over the 10-year repayment period. The Extended Repayment Plan allows the repayment period to be increased from 10 to up to 25 years.
You also have the option of choosing an income-based plan. These plans ensure you aren't making a payment that you cannot afford by adjusting your payment based on your income. You are required to show proof of income annually, and the payment will be adjusted accordingly.
Know Your Resources
With so many options available, it can be hard to pick which is best for you. The Federal Student Aid Repayment Plan Estimator is an excellent resource. By plugging in the basic information on your loans, you can calculate your monthly payments and total interest paid for every repayment plan. The example below shows the various plans offered to a graduate from a four year state school with around the median income for a 2017 graduate.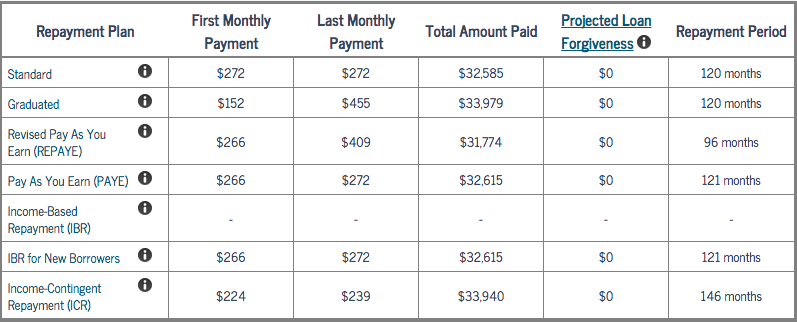 Figure 1: Assumes $26,946 loan balance interest rate of 3.9%, and annual income of $50,000 upon graduation. Amounts taken from studentloans.gov
Be Careful when Considering Consolidation
Another option for students is loan consolidation. That just means taking all of your loans for each semester and combining them into one big loan with a single monthly payment. Consolidating your loans with the Department of Education is free, makes it easy to see exactly how much you owe, and can extend your repayment period past 10 years, but it can also have drawbacks.
First, if you do not consolidate and decide to make an extra payment, you can pick to pay down your highest interest loan first. This option is not available once consolidated because your interest rate is a weighted average of your previous interest rates. The other drawback of consolidating to extend your repayment schedule is that you'll pay more over the life of the loan.
If you are considering this option be sure to discuss the pros and cons with your loan servicer.
Pick a Plan and Stick with It
One final piece of advice to make the whole process easier: make it automatic. Once you've chosen your plan, sign up for automatic payments to your loan servicer. This will make your loan bill feel like any other bill, helping you stay on track without thinking about it. Some loan servicers, like Nelnet and Great Lakes, may even cut you a break on your interest rate for making automatic payments.
As your income increases and you become comfortable with the payment each month, you may even decide to make additional payments to save on interest and pay off your loans early.
By getting to know your loan servicer, understanding the terms of your loans, and picking a repayment plan, you will be in a great position to pay off your student loans.