Stock markets have been choppy lately, with the S&P 500 off more than 10% from its highs. A decline of this nature is broadly labeled as a "correction."

While it's never fun to see your portfolio take a hit, losses are a normal part of investing. During bull markets since 1945, the S&P 500 has experienced a pullback of 5.0% to 9.9% once a year, a correction of 10.0% to 19.9% every 2.8 years, and a bear market decline of at least 20% every 4.7 years.
We realize that being a long-term investor is easier said than done, because the long-term feels like an eternity in the moment. In our 35 years serving clients, we've dealt with our fair share of downturns. Rather than try to predict the downturns, we plan for them.

If you're still feeling uneasy about the market falling, consider the chart below. It shows how relatively short bear markets are compared to bull markets. Notice that the length and gains of a typical bull market (blue) are disproportionately greater than the length and severity of bear markets (orange).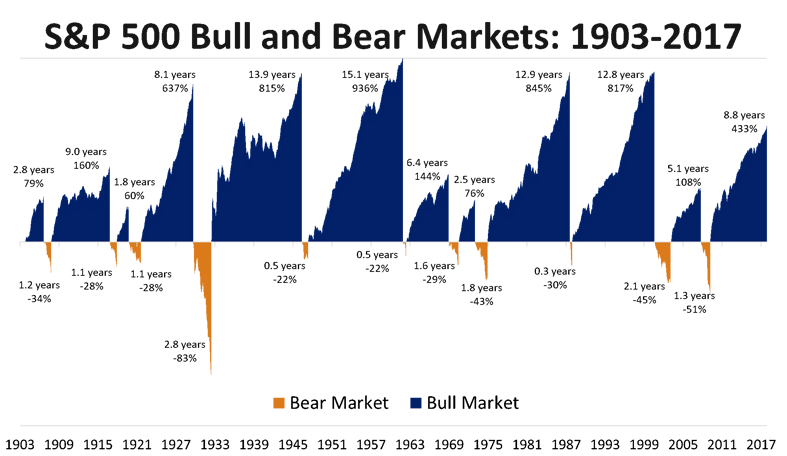 Trying to avoid the bear markets means sitting in cash and missing out on the disproportionately greater gains. Rather than worry about avoiding relatively short-lived downturns, as difficult as they feel in the moment, you must focus on the things we can control to capture all the returns the market offers in the good times.

If you are nervous about the market, you are better off reviewing the underlying assumptions in your financial plan than making changes to your portfolio. Please contact your Wealth Manager if you'd like to review the assumptions of your Financial Independence Analysis or run a Safety Net Analysis in light of the recent volatility.

As an additional resource, you may consider watching the presentation I recently made to the American Association of Individual Investors. This presentation takes a deep dive into how Plancorp thinks about investing in today's market environment as well as the strategies we use with clients to help them navigate the uncertainty.
*For educational purposes only and should not be used as investment advice. All investing involves risk. Indices are not available for direct investment. Their performance does not reflect the expenses associated with the management of an actual portfolio. Past performance is no guarantee of future results.